Braun Linen Supports the Community and Our Customers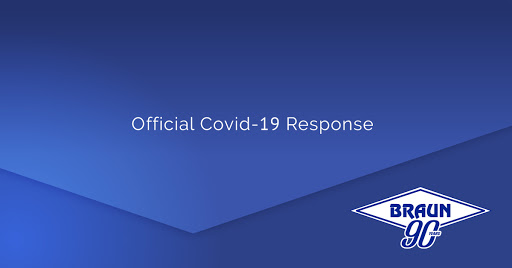 At Braun Linen, we wake up everyday knowing that there's a job to do. Our families, our customers, and our community count on us to fulfill that duty. It's for those reasons, and for our people, that we will continue to deliver great service no matter the obstacle.
COVID-19, while a considerable difficulty to overcome, is not insurmountable. In our 90 years of service to the industry, we've seen all forms of hardship. We are doing everything we can to continue to support your business.
While our resilience is largely due to the tenacious and 'never quit' attitude possessed by our staff and management, it's more so due to you, our customers. Without your support, we couldn't do what we do, or have the strength to push through trying times.
Here's what we're doing to make sure we're able to stay on top of our obligations:
Safety-Minded Approach to All Business Aspects
Keeping our staff and customers safe is and always will be the primary objective of our operations. That's why we only invest in high-quality materials for renting and in professional laundry technologies and techniques.
Mats and Mops for an Always-Clean and Ready Business
Our world-class mat and mop service program supplies your business with top-notch matting for every purpose. Most dirt in businesses is carried in on the shoes of customers or employees. Properly placed mats outside and inside your business can eliminate up to 85% of that dirt. Considering that dirt can carry a host of bacteria, viruses, and allergens, eliminating as much as possible before entering your building is a solid practice.
For everything that the mats don't get, our mop service ensures that you have the tools and solutions available to manage the stragglers.
Day-to-Day Approach
There's little value in deep future projections when the here and now demands so much of us. And that's what Braun is committed to: your needs, right here, right now.
Hygienic Cleanliness for Any Business
Whether you're in the hospitality or health sector, Braun Linen has the material and practices to ensure quality, safe materials. We know what it takes to ensure that the materials we send out are clean and free of contaminants. As such, we take every precaution and procedure necessary to keep them clean and ready to use.
Not just any laundry facility is genuinely equipped and knowledgeable enough to prepare linens for medical use. With contaminated linen potentially wreaking havoc on your patients' recoveries, there can be no shortcomings.
The hospitality industry also has strict requirements for quality and appearance of their linens. Braun Linen knows the standards of the business and we've formed our operations to serve it dutifully. From hygienically clean and ready linens to the monitoring procedures that keep them looking fresh, Braun Linen has your business covered.
Braun Linen is proud to be Hygienically Clean Certified. Our facility has passed rigorous third-party testing to ensure optimal cleanliness throughout every step of the laundering process.
Braun Linen is Here to Support Your Business
No matter what's going on out there, Braun Linen is here with the same great service always. If you have any questions or want more information on our products and services, give us a call at 800-272-8657 or contact us here.
https://www.braunlinen.com/wp-content/uploads/2020/03/2020-03-18-1.jpg
268
512
Braun Linen Services
https://www.braunlinen.com/wp-content/uploads/2019/09/braun-90th.png
Braun Linen Services
2020-03-18 18:23:34
2020-03-18 18:23:34
Braun Linen Supports the Community and Our Customers