10 Tips for Choosing the Best Fabric for Restaurant Napkins

Napkin fabric used in restaurants has a surprising impact on customer experience. Here are the 10 tips to help you choose the best fabric for napkins in your restaurant.
1. When picking the best fabric for restaurant napkins, quality is essential.
In anything, quality should always be the top priority. In the long run, better quality items, especially those that are used as regularly as restaurant napkins, bring you more substantial savings. While cotton and satin are always a good choice for topnotch quality and classiness, polyester blends as well as other synthetic materials may be a good option for better stain resistance.
2. Go for easy-to-match, neutral shades for regular use.
The cost of linens, especially restaurant napkins, can add up especially if you have to keep upgrading them just to match your changing aesthetics. Pick colors that are neutral and classic like black, beige or white. Neutral hues will easily blend in with the subtlest tweaks to any color scheme or almost any season.
3. Pick the right size for your needs.
There's a perfect napkin size for every type of restaurant. Casual dining? Smaller sizes and square ones are your best options. Going for the more formal experience? Go all the way with 60x60s!
4. Make sure to match.
The quality of the table makes just as much of a difference in your customer's dining experience as providing quality napkins. Put the same effort into selecting and managing your cutlery, table runners and tablecloths to get the most out of your restaurant linen investment.
5. Experiment with design.
There are so many types of napkins to choose from, not just in terms of material and color but also in terms of design. There are prints, subtle embroideries, and color combinations to choose from. Explore your options and find ones that suit your restaurant best.
6. Go easy on the folding styles.
Pinterest has a wide range of folding style tips and DIY pages for napkin folding. While many of them are worth trying, keep in mind that you're running a restaurant and not a daycare center. A napkin bunny may be a tad too much for your adult diners. So, stick with a classic fold.
7. Customize where possible.
Most napkins look alike. It takes a discerning eye for high-quality linens to see the difference between your napkins and your competitor's napkins. Add a personal touch to your linens – maybe with an elegant embroidery of your logo or restaurant name. For an even more sophisticated look, an engraved napkin ring will certainly do the trick.
8. Never skimp on cleaning and maintenance.
Proper and prompt cleaning make all the difference in getting the most out of your napkins. Make sure that your napkins are cleaned and treated correctly according to the material they're made of. Bear in mind napkins can be very delicate. To keep them looking new for as long as possible, the appropriate method, cleaning agent, and other special treatments are necessary.
9. Store them properly.
Proper storage of your fine napkins is just as important as keeping them clean. Make sure they are pressed, folded neatly, and stored in a clean storage space where they are not exposed to moisture or heat. This gives your napkins extra years on their lifespan, allowing you to maximize every cent that went into them.
10. Pick the right linen service provider to handle your restaurant napkins.
The right linen service provider will be able to offer you a wide range of restaurant napkin options. They'll also make sure that your napkins are prepared and processed in the best way.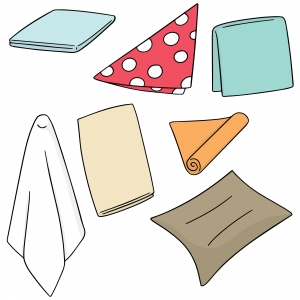 Interested in securing some professional-grade napkins for your restaurant or need to know more about how to choose the best fabric for restaurant napkins? Learn more about what Braun Linen can do for your business! Call us at (800) 272-8657.

https://www.braunlinen.com/wp-content/uploads/2017/10/Braun-Napkin-Tips.jpg
693
1000
Braun Linen Services
https://www.braunlinen.com/wp-content/uploads/2019/09/braun-90th.png
Braun Linen Services
2017-11-01 12:59:56
2022-04-11 16:21:47
10 Tips for Choosing the Best Fabric for Restaurant Napkins