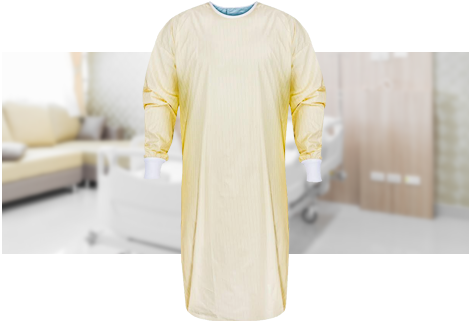 For months, the medical industry has struggled to source medical supplies due to Covid-related PPE shortages. Disposable options are tempting, though they're expensive and contribute to an increasing PPE pollution problem. Between shortages and harmful disposable options, reusable options look more and more beneficial.  Reusable isolation gowns are a great example of a solution that tackles both problems. 
With the right quality of reusable isolation gowns, you can ensure  sustainability without jeopardizing the safety and wellbeing of your medical professionals.
Although they are technically launderable, these isolation gowns quality as "single use" for the rigorous and thorough cleaning procedure they must endure before reuse. 
As beneficial as reusable isolation gowns are in your practice or facility, keeping them clean and safe is a challenge. That's why reliable rental service for reusable isolation gowns is beneficial.
What You Can Expect from a Reusable Isolation Gown Rental Service
Renting reusable isolation gowns positively impact efficiency and protection in your medical facility. 
Better reusable isolation gown selections.

It is important to find the right supplier for your facility. It can mean the difference between vulnerability and protection. You want optimum protection. With rental, a service provider can be easily held accountable because of the repeated transactions. From an economic sense, it is more logical and profitable to use higher quality products that they can repeatedly earn from compared to the lower number of uses that low-quality gowns offer.

Better clean.

Reusable isolation gowns provide a more reliable cleaning result. A service provider has the capacity both in expertise and equipment to bring the cleanest and safest results.

Protection against shortages.

Compared to keeping a finite amount of isolation gowns that you have to maintain in-house, renting your isolation gowns from a reliable third-party company is a hassle-free way of keeping up with the volume of your needs.
Where to Get Isolation Gown Rentals in California
Making the decision to hire a reusable isolation gown rental service is the first step in increasing the efficiency of your practice. Finding the right service provider to work with is the second and most essential step.
In California, there is only one company that meets the highest compliance requirements and exceeds your strictest standards on cleanliness, product quality and integrity, and service reliability: Braun Linen!
Braun has a proven track record for reliable medical linen services – with an industry history that goes back to 1929, and a Hygienically Clean Healthcare laundry certification. When you entrust your service needs to Braun Linen, you'll know that your garments are in the hands of true experts. You can expect results that are clean, safe, and reliable.
Learn More About California Reusable Isolation Gowns Rental Services from Braun Today!
Braun is the only expert to trust in California for high-quality and safe reusable isolation gowns rental services. Get started with your rental service today! Call Braun at (800) 272-8657 or send us a message here.  
https://www.braunlinen.com/wp-content/uploads/2020/08/iso-gowns-end.png
330
470
Braun Linen
https://www.braunlinen.com/wp-content/uploads/2019/09/braun-90th.png
Braun Linen
2020-09-01 06:30:45
2020-08-27 16:46:07
Reusable Isolation Gowns Through Braun Beat Disposable Alternatives