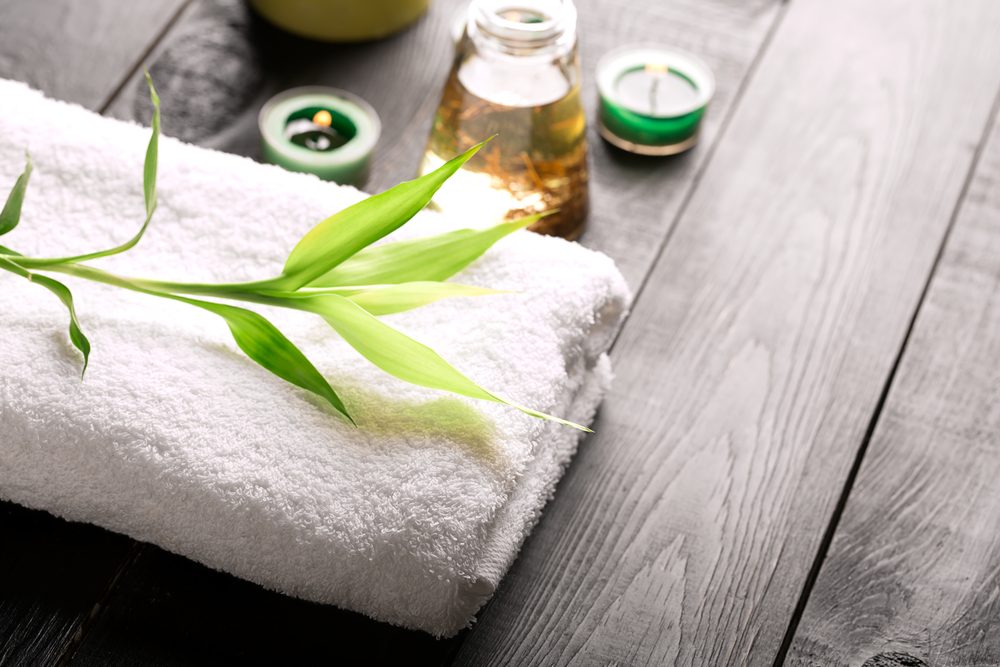 As a spa, you probably offer a wide range of services, from massages to facials to waxing and more. Linens for your massage tables make sense, but what do you do with all those towels?
If you're looking to enhance the spa experience for your clients, investing in high-quality towels is a worthwhile investment.
They can serve a wide range of functions for all the different services you offer, but here we'll go over some of our favorites.
Here are our tips for using your spa towels:
1. Use warm, moist towels as part of your massage routine.
A nice, steamy towel used to work out kinks is a truly relaxing experience. Find ways to incorporate heated towels into your massage routine, such as using them to massage the arms or legs.
2. Offer cotton hand towels in your bathroom.
The trend in spas of being health conscious and environmentally friendly is not one to ignore. Instead of offering paper towels in your restrooms, follow the eco-conscious trend and offer reusable cotton hand towels instead.
3. Use heated, moist spa towels during facials.
Similar to using heated towels during massages, warm spa towels resting over the face during a facial can also be deeply relaxing. When people come in for a facial, they're not just looking to improve their skin, but also to take some time for themselves to detach from the busy world and relax. Give them that with a nice, warm spa towel.
4. Spa towels can be used to wipe away exfoliants and other facial products.
This one might seem a little obvious. Of course, during a facial, your aestheticians are going to be applying products to your clients' faces. How do they get the products off? Don't ask clients to walk over to the sink and wash their own face. Bring ease to the client experience – allow them to rest while aestheticians wipe the products away with your spa towels.
5. The above point doesn't just apply to facials.
If you offer exfoliating scrubs as an add-on to your massage services, then just like with facials, you're going to need something to wipe the product off with. A towel can be within easy reach to get the job done without deterring from the client experience.
6. Towels are essential to sauna services.
If your spa offers a sauna, or any type of heated service, proper etiquette would be to offer the individual a towel to dry off with at the end of the service. Also, to make clients feel cleaner during the sauna and to prevent infections and other bacteria from spreading from individual to individual, you should lay towels down where the client will be sitting/lying down so that they're not just sitting directly on the last client's sweat. Your clients will also feel more comfortable entering your sauna wrapped in a towel for more privacy.
7. Offer damp towels at the end of services.
For relaxing massage and facial services, a client may appreciate a warm towel to massage their own hands or arms at the end. But especially with sauna services, a nice, cool, damp towel would help the client cool off after a fairly intense session of sweating.
At Braun Linen, we care about the success of our clients and we want you to be successful with your own. Not only should you follow the above tips to enhance your clients' experience, but you should also get your spa towels from Braun!
You'll only accomplish a pleasant towel experience if you offer your clients high-quality, comfortable towels! Call us today at 800-272-8657 to learn more about our spa linen and towel services.

https://www.braunlinen.com/wp-content/uploads/2018/06/spa-towels.jpg
667
1000
admin
https://www.braunlinen.com/wp-content/uploads/2019/09/braun-90th.png
admin
2018-07-01 19:39:15
2019-09-20 20:51:20
Creative Ways to Use Your Spa Towels