How to Manage Hotel and Restaurant Linens at the Same Time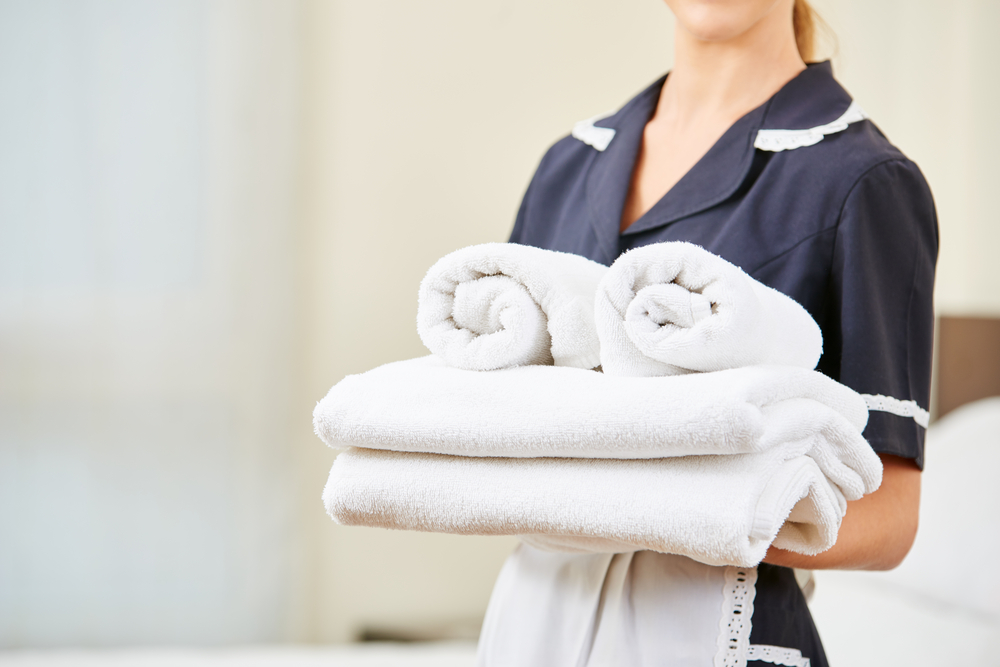 If you run a hotel that also contains one or multiple food service establishments, you're presented with a unique linen management problem. Hospitality and food service linens have to meet two different standards of cleanliness.
The same techniques used to clean lightly soiled sheets can't necessarily do anything about a wine-stained tablecloth.
So how do you manage chef uniforms, bath towels, grill pads, pillowcases and more all at the same time?
1. Choose your stocks wisely.
It goes without saying that better quality linens will take your investment further. But a lot of business owners – especially small ones – make the mistake of purchasing cheaply in the hopes of getting extra savings and making room for some other purchases. But the truth is, your cheap linens can only get you so far. Their lifespan and questionable durability will not serve your business long and will cost you more along the way, taking back what you thought were "savings" and maybe even more. Besides, what does having cheap, poor-quality linens say about your business? Always start with quality linens.
2. Cut down the losses.
Linen loss due to theft (more common than you can imagine) by guests and/or insiders, as well as losses due to improper maintenance practices and poor product choice are only some of the most common causes of linen loss. These losses, no matter how small, amount to consequential costs in the long run. Every cent, every napkin, and every hand towel matters after all. Invest in technology and modern IT solutions to help you track your usage, predict upcoming costs, and cut down losses. The right system will keep you in complete control of your linens and laundries – from usage to costs to replacements to repairs.
3. Partner up with a quality laundry service facility that can serve both restaurants and hotels.
The right partner in one of your most important supplies can make a whole world of difference in how you manage your hotel and restaurant linens. Find the right company that will give you the support you need – from ensuring that your linens are washed and delivered on time to helping you predict high volume seasons. The right laundry service will make sure every item in your inventory comes out clean, pressed, and flawless.
What Makes a Good Linen Service Partner for Your Hotel and Restaurant Business?
What makes a good linen service partner for your business, you may ask? Here's what you need to be looking for:
 – Specialization in the hospitality and food linen industry. Hospitality and restaurant service linens have laundering needs different from that of other industries. Make sure your linen service partner knows your industry inside-out so the results they deliver matches your exact need.
 – An array of products to choose from. Find someone who can provide you with a wide array of options to match your aesthetics, whether you're looking for the right tablecloth color or the right sheet texture.
 – A topnotch laundry maintenance facility that can handle even your largest needs. Look for a company that runs a facility that can deliver results, no matter the volume.
 – Has years of experience and a good reputation to match. Go for a partner that has the expertise and the experience in the industry. They'll how to anticipate your needs better.
 – Direct and personalized service in every part of the operations. Find a linen service company that will give you personalized services. They're the ones who will truly take care of you and will treat your business needs as if it were their own.
You don't have to single-handedly carry your linen burdens. Entrust your hotel and restaurant linens to the hands of industry experts and focus on what matters most: your business. Get the help you need and the results that you deserve from Braun!
Our family-owned-and-operated commercial laundry facility will be more than happy to have you on board and keep your linens in the best and cleanest condition at all times. Give us a call at (800) 272-8657 to get started or to learn more about how we can help you grow your business!

https://www.braunlinen.com/wp-content/uploads/2018/05/how-to-manage-hotel-and-restaurant-linens.jpg
667
1000
Braun Linen Services
https://www.braunlinen.com/wp-content/uploads/2019/09/braun-90th.png
Braun Linen Services
2018-05-04 18:12:20
2019-09-20 20:52:43
How to Manage Hotel and Restaurant Linens at the Same Time